EBTA
What is English Bridge Teachers Association?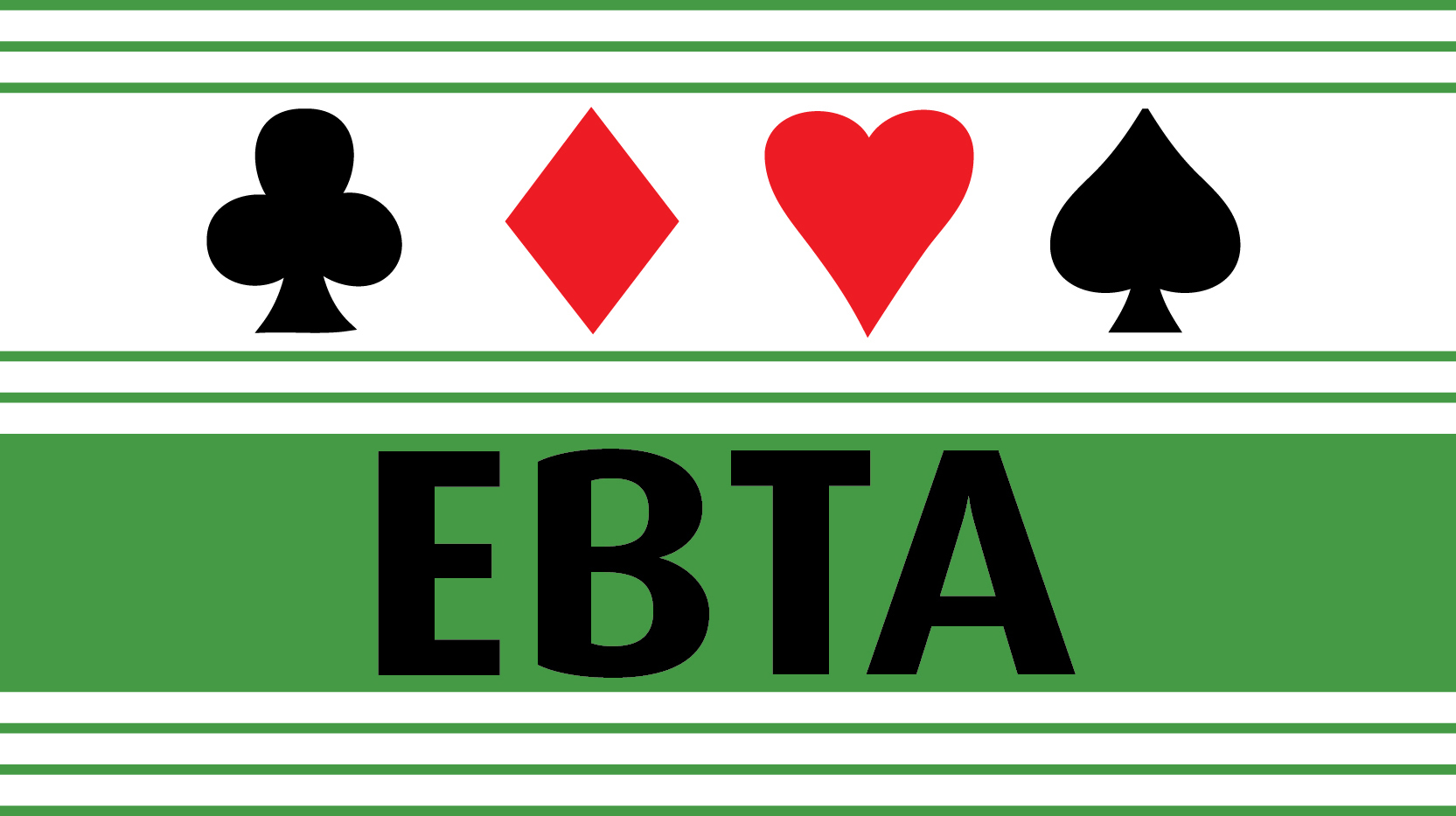 English Bridge Teachers Association (EBTA) promotes and supports effective teaching of bridge. Its aims are to attain the highest standard of bridge teaching across England, professionalise the teaching of bridge; in order to maximise the number of bridge players. These aims are achieved through EBTA membership and the provision, to its members, of information, advice and training related to all aspects of bridge teaching.
Who can join?
Membership is open to all, whether you are an established teacher or newly interested in teaching. Initially, you will join as an Associate member, gaining access to the wide range of membership benefits (see below).
How do I start teaching Bridge?
How do I join?
Just fill in an Application Form and pay your subscription fee, which, for 2018/9, is just £20 (or £25 for those living abroad). Please post or e-mail the completed form to:
Lisa Miller
English Bridge Education & Development CIO
Broadfields, Bicester Road
Aylesbury HP19 8AZ
Tel: 01296 317217
email: lisa@ebu.co.uk
Progressing through the Ranks
Anyone who is a paid-up member of EBTA is described as an Associate Member. One year's free Associate Membership is also given following attendance on one of our Club Teacher training courses. Attending this course will give you a strong base to grow your teaching skills plus a structured approach to delivering a Bridge for All program to your students, and means that you will show as "EBED Trained" on our Teachers Directory, giving you a stronger appeal to students finding a teacher through our website.
A Full Member of EBTA will have gone through an assessment process, for which there is currently no charge. The assessment includes an observation of your teaching by one of our EBTA Professional Members, a basic test of bridge knowledge and other requirements. Once completed you will be able to use the title, Qualified Bridge Teacher.
The detailed procedure for becoming a Full Member is explained here.
To become a Professional Member of EBTA, teachers must show satisfactory performance in a number of key areas, amongst which are ongoing support for their students, a commitment to help less experienced bridge teachers and, most importantly, communication skills. The assessment process includes a six-month Personal Development Log, which helps us to assess whether the criteria have been met consistently over a period of time.
More details on the process of obtaining Professional Membership can be found here.
EBTA Benefits
EBTA members can take advantage of a range of services and all sorts of special offers and discounts, including:
Membership of a supportive network of bridge teachers
Access to the EBTA Teachers Zone (through their EBU Members page) with a wide range of free downloadable resources from special courses, to handbanks and much, much more.
Access to EBUScore - the EBU's scoring software - free of charge. EBTA members can download EBUScore from the members area of the EBU website
Lots of special offers and ongoing discounted prices on a selection of bridge books.
Free copy of the EBTA Teaching Guide which contains much straightforward guidance on basic learning and teaching methods, advice on how to structure effective courses at all levels, suggested sequences for teaching bidding and card play, all in a loose leaf form to enable it to be added to and personalised
Regular copies of Accolade, our infosheet containing news, advice, ideas from other teachers, details of training and development events, etc
Professional Indemnity Insurance cover under an umbrella scheme. Please click here for a copy of the Policy Schedule and information on who to contact in the event of a claim.
Accessing the Teachers Zone
Teachers who are EBU members should log onto their My EBU Page, and then choose 'Teachers zone' from the 'utilities' menu. EBTA members who are not EBU members should contact Lisa Miller for alternative instructions.