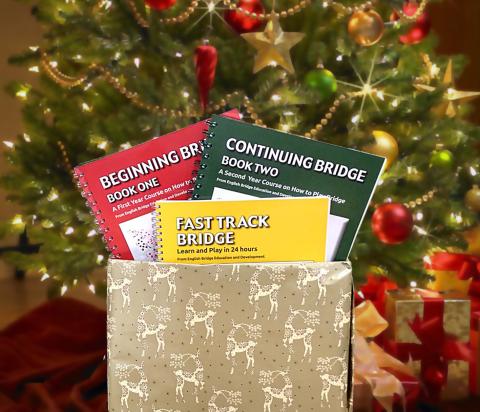 ... he's checking it twice. Stuck for gift ideas this Christmas?
Then why not consider giving the gift of Bridge… EBED's suite of Bridge for All teaching materials are all on sale now, and could make a perfect Christmas gift for any current, or future, bridge students.
Along side our new edition of Beginning Bridge Book 1, is the latest member of the EBED family, 'Beginners Flippers'. Launched in the summer and available to purchase from the Bridge Warehouse our Beginners Flippers are table top flippers designed to act as either a student aid or teaching aid.
Wondering for whom these materials may be ideally suited? Watch our introductory video at www.ebedcio.org.uk/BFA.
To make a purchase, or for more details, see the Bridge Warehouse website – www.ebu.co.uk/bridge-warehouse - or call Lisa on 01296 317217.