EBTA
What is English Bridge Teachers Association?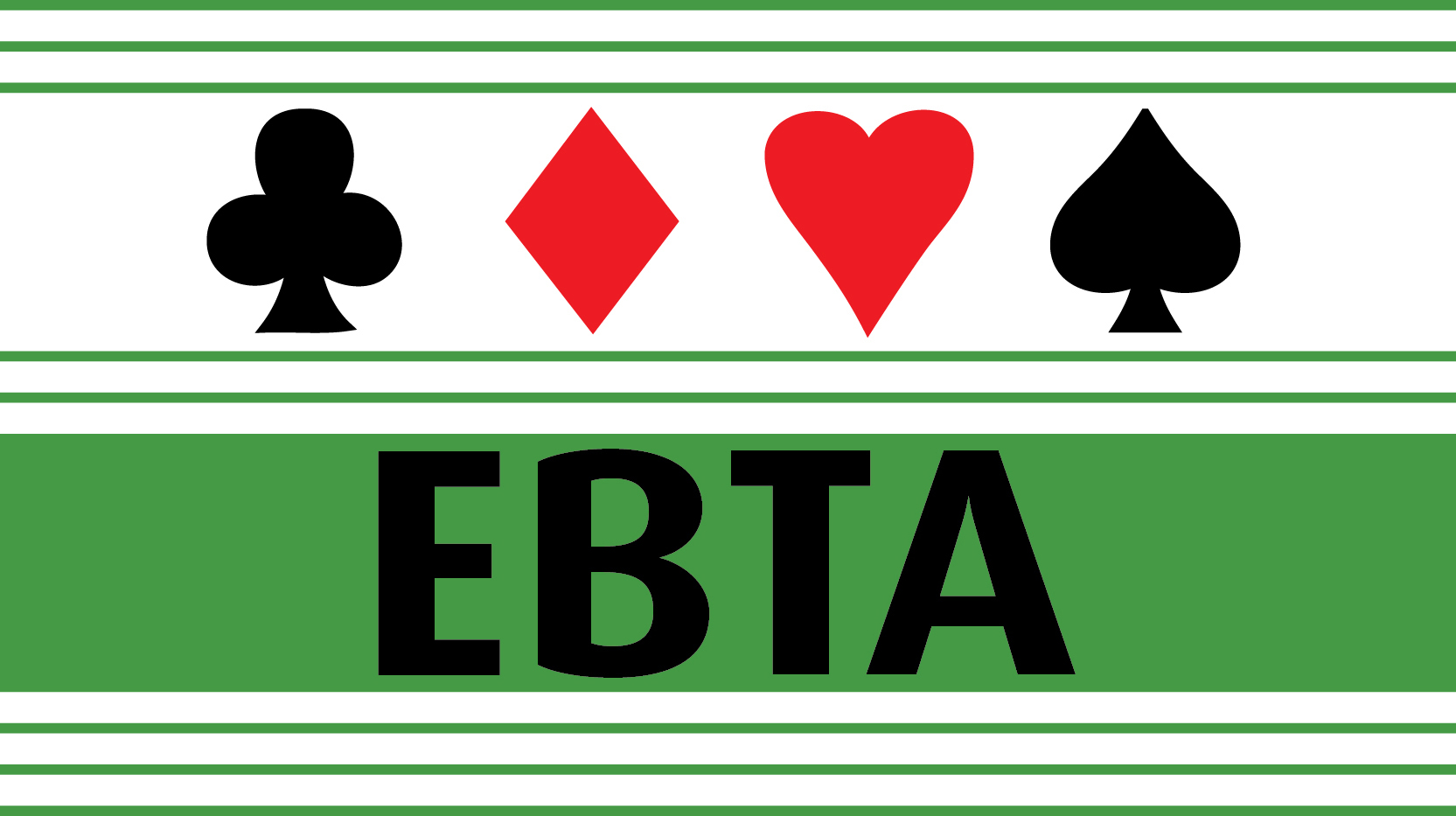 English Bridge Teachers Association (EBTA) promotes and supports effective teaching of bridge. Its aims are to attain the highest standard of bridge teaching across England, professionalise the teaching of bridge; in order to maximise the number of bridge players. These aims are achieved through EBTA membership and the provision, to its members, of information, advice and training related to all aspects of bridge teaching.
EBTA Benefits
EBTA members can take advantage of a range of services and all sorts of special offers and discounts, including:
EBTA Membership – The Package
Cost £45 per Annum
Benefits
• Generous discounts on Bridge for All materials - Recover your EBTA membership fee with just a few book sales.
• English Bridge School teacher account - our brand new online platform with ready made customisable courses and resources
• English Bridge School - support and online training for you and your students. Using the technology and teaching tips to help you get started.
• Training opportunities - EBTA members are supported with continual professional development via online webinars, videos and support to help you teach in class or online
• Access to Online Materials – Our teaching zone with materials, downloads and videos is accessible for our EBTA members.
• Free Professional Indemnity Insurance – saving you an insurance cost of around £60-£80 every year.
• Advertise your own courses on our EBED Bridge Course Calendar (free)
• Free licensed use of EBU Score
• Access to advice and support from EBED/EBU
• FREE access to V-Blue and VuBridge learning area - via the Teacher Zone
• FREE 1-year membership of EBU for all your students
• Access to the EBED Student Zone for all your students
• FREE teacher account with No Fear Bridge website and 6 weeks FREE access for all your students
• Discounted membership to No Fear Bridge for all your students
• Hand Generator Macro and HandPlay software - available for members
• Access to EBTA Teachers' Forum – via Teach Bridge section of EBED website
• Membership of EBTA Facebook group – search 'EBTA' via Facebook
• EBTA Teachers Conference invitation
• Your contact teaching information included in our EBED Teacher directory (optional)
• Access to Full and Professional membership progression program
Who can join?
Membership is open to all, whether you are an established teacher or newly interested in teaching, provided you are in good standing with the English Bridge Union. Initially, you will join as an Associate member, gaining access to the wide range of membership benefits.
How do I join?
Simply complete the on line application form
On completion of the form you will be asked to make payment via the Bridge Warehouse
For existing membership renewals: please pay by MyEBU (or one of the other methods shown on your renewal notice) - and not via the Bridge Warehouse.
For any renewals or account queries please contact:
Lisa Miller
English Bridge Education & Development CIO
Broadfields, Bicester Road
Aylesbury HP19 8AZ
Tel: 01296 317217
email: lisa@ebu.co.uk
How much does my EBTA Membership cost?
The current cost of membership is £45.00
Progressing through the Ranks
Anyone who is a paid-up member of EBTA is described as an Associate Member. One year's free Associate Membership is also included when you join one of our Club Teacher Training courses. Attending this course will give you a strong base to develop your teaching skills plus a structured approach to delivering our bridge teaching programmes in class or online.
To become a Full Member of EBTA there is an assessment process which includes a bridge knowledge test, provision of teaching evidence and a lesson observation by one of our EBTA Professional Members or Teacher Educators. Once completed you will be able to use the title, EBED Approved Bridge Teacher. The Full Membership assessment is free if you have completed a Club Teacher Training course within the last three years. If it is more than three years since your course, there is a fee of £45.
The current procedure for becoming a Full Member is explained here. We now have an online assessment option for those teaching on line.
To become a Professional Member of EBTA, teachers must show satisfactory performance in a number of key areas, amongst which are ongoing support for their students, a commitment to help less experienced bridge teachers and, most importantly, communication skills. The assessment process includes a six-month Personal Development Log, which helps us to assess whether the criteria have been met consistently over a period of time.
More details on the process of obtaining Professional Membership can be found here.
Accessing the Teacher Zone
Teachers who are EBU members should log onto their My EBU Page, and then choose 'Teacher Zone' from the 'utilities' menu. EBTA members who are not also EBU members should contact Lisa Miller.